Communicating complexity clearly and inspirationally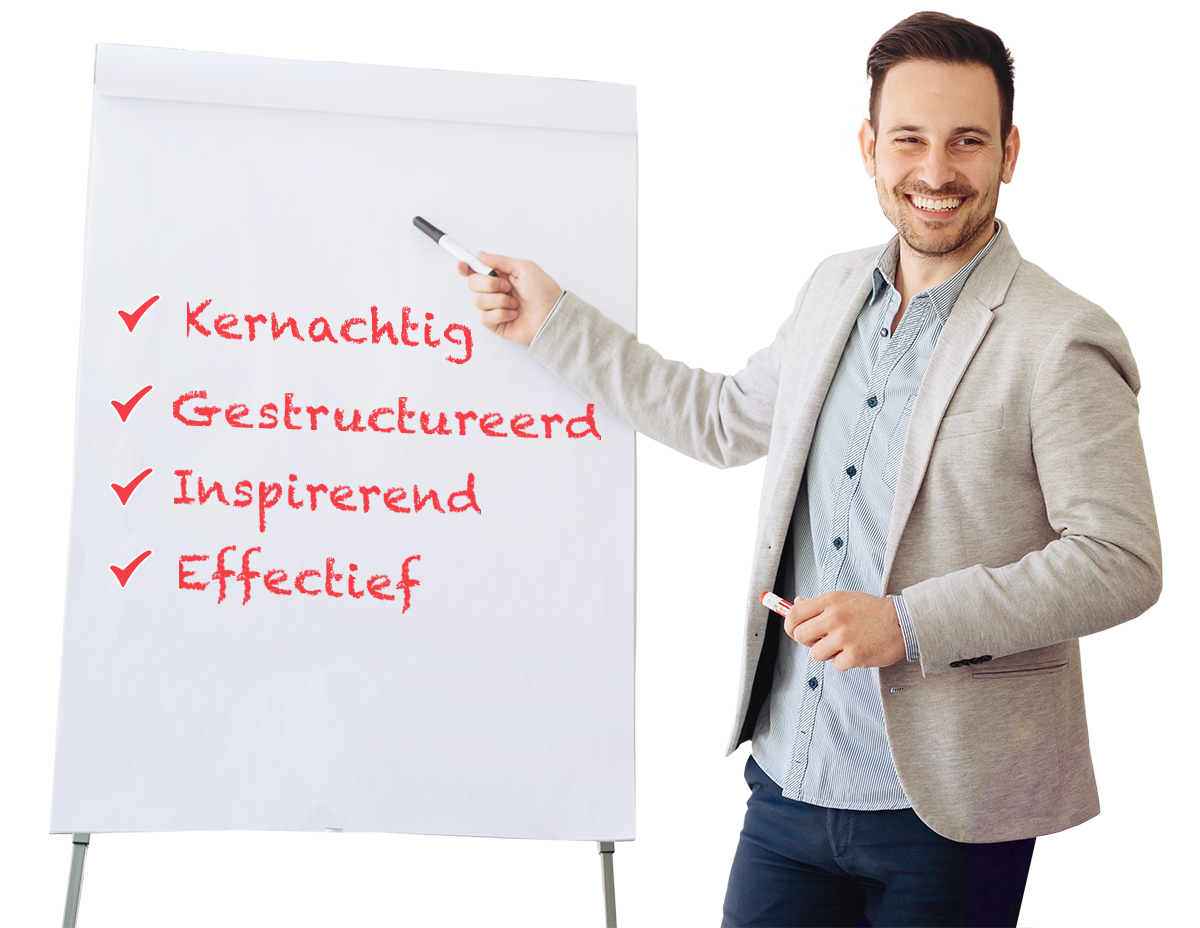 What are you up against?
You have to regularly present in meetings. To stakeholders from other departments or MTs. People who are not as familiar with the subject as you are. You want to get them enthusiastic about what you are doing or create support for your plans. But you notice for whatever reason that the message is not getting across…
The objective of this program
Enabling you to present your content strongly, effectively and in a relevant manner. This training program is not about the body language or the use of voice. It's about bypassing psychological barriers in place.
After this you will be better able to:
You effectively engage in the conversation with your stakeholder about setting the right priorities. Your mutual relationship strengthens. You can also deal with difficult stakeholders.
You know how to recognise and deal with resistance. You are able to communicate your proposals and plans in such a way that you get stakeholders on board.
We understand that you have little time and thus little desire to absorb dry theory. We also understand that you hate long-winded training sessions.
That's why you don't get any thick readers or books in this program. We have translated all concepts into short online learning missions. You can play these via your phone or PC at any time of the day. You score points and try to beat your fellow participants.
The training sessions are purely for practicing, practicing, practicing. So no long-winded explanations by the trainer. But to work directly with your fellow participants. With practical exercises. Which are instructive and inspiring!
You take a topic from your practice and prepare a 5-minute presentation. You present this to the trainer in a 1-on-1 session. The trainer will get a good impression of your current strengths and areas for improvement. Then you will receive feedback: you will learn where you can improve and especially why that works.
You get concrete instructions that you can work with. You will receive these in writing afterwards. Together with a video of your presentation.
Based on the feedback obtained from the 1-on-1 session, you modify your presentation. After a week or two, group training then follows.
In this session you will see your fellow participants and present to them your modified presentation.
You will receive feedback from both the trainer and your fellow participants. And experience how the tips & tricks you learnt in the 1-on-1 session make you more effective. You also learn a lot from the presentations of others.
You will end the session with clear tools to strengthen the content of your presentation. Which you know is true. You also get a video of your second presentation. Which you can compare with your first presentation. And so you can see your own progression.
"Goede bevlogen en zeer ervaren trainer. Gerben geeft hands-on tips die je meteen kunt toepassen in de praktijk."
"De combinatie van korte voorbeeld video's, 1:1 feedback en online groepstraining biedt effectieve borging van de training"
"Dit was voor mij een zeer leerzame en ook nog een hele leuke training. Gerben legt op een energieke, prettige en ongedwongen manier uit hoe je met nóg meer impact kan presenteren. Aanrader."
You may be interested in our other training programs